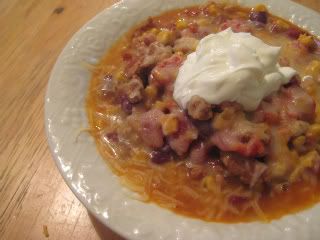 Here was the very first recipe for Julie Jacobs' "Crock of the Week" on 97.7 WGLR. I post a new recipe every week at www.wglr.com, and then archive the previous week's recipe here on this blog.
TACO SOUP
1 lb ground turkey or beef, browned and drained
1 medium onion, chopped
2 (15oz) cans kidney beans (I use one light red and one dark red)
2 (15oz) cans pinto beans
2 (15oz) cans corn with their juices
1 (28oz) can diced tomatoes with their juices
1 (14oz) can tomatoes with green chiles (Rotel) with their juices
1 packet taco seasoning
1 packet ranch dressing mix
sour cream and shredded cheddar cheese for garnishing
Place the meat and onion in your crock pot. Rinse and drain the beans and add to the pot. Add corn and tomatoes with their juices, and then add the seasoning packets.
Cook on low for 8 hours or high for 4 hours.
When serving, add a handful of cheese and a dollop of sour cream to each bowl. I also like to throw on some crushed up tortilla chips. Cornbread is also a nice friend with this soup. It is very filling, and freezes well if you want to save some for later!